Hey all you NW US area Truckers, Baconfest is coming to Portland on October 3rd!  Check out the sizzlin' events planned: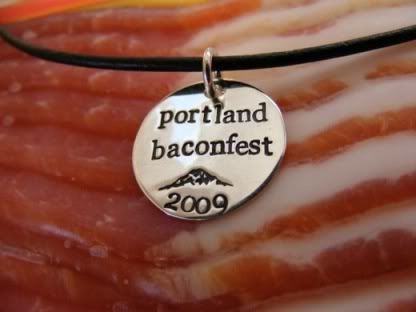 Half Pipe
Bacon skateboards will be there to shred the half pipe between bands with:
Johnny Turgesen, Kevin Kowalski, Benji Galloway (injured but will attend), Mason Huggins, Cody Lockwood, Mike Barnes, Oudalay Philavanh, and Noe Chavez
Bacon Eating Contest
Think you're the king of bacon?  Prove it.  We will select eight contestants to battle it out in five rounds of bacon madness.  The winner walks away with a Traeger grill.
Round 1 – 6 inch BLT's
Round 2 – Voodoo doughnut maple bacon bars
Round 3 – Bacon wrapped banannas
Round 4 – Bacon Salted peeps
Round 5 – Bacon ice cream sundaes
Bacon Dance Off
So, you think you can dance?  What about the bacon dance?  The Bacon Dance off will consist of 8 contestants dancing while consuming bacon.  For every song you must consume a piece of bacon, or facon.  The second your dance slows or becomes pathetic you are eliminated.  Yes, you will be on stage dancing in front of everybody. The winner walks away with an ipod touch loaded with bacon apps.
Bacon Confessional
Have you crossed the line with bacon.  Well, have no fear, because the bacon confessional is here.  Speak with our priest to cleanse yourself of your bacon sins.  If it's juicy enough you may find yourself on www.themeatshow.com.  Best confessional walks away with $50 in itunes gift cards.
Count the Bacon
We are filling a jar full of bacon and you gotta guess how many pieces are in it.
Related Posts :